Denture Implants And Bridges For Fresno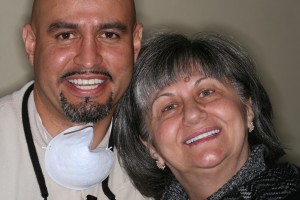 At Mirelez Wellness Dental in Fresno, we like to give you options that provide long-term results. We also work to build a lasting relationship with you so that we can help you achieve a healthy, beautiful smile.
For this reason, we keep up-to-date on current dental techniques and keep a good eye on the future – the future of your dental health, and dental technology too!
For those with missing teeth, one of the great long-term solutions available is implant dentistry. Utilizing implant dentistry we can offer permanent teeth replacement solutions for those looking to replace one or more teeth.
Many patients with multiple missing teeth require a dental bridge or dentures. Now, thanks to implant dentistry we can offer both permanent dentures (utilizing denture implants) as well as a permanent dental bridge.
I had no teeth and it was hard to chew. I had a partial that flipped around in my mouth. I feel great about my new teeth, it's like having my own teeth back. My implant looks and feels very natural I would recommend Implants to whoever is losing or have lost any teeth.

Joan Hayes, Chico
Permanent Dentures | Permanent dentures are secured with denture implants and provide a long-lasting form of tooth replacement. Denture implants are a form of dental implants used to secure permanent dentures and other dental devices safely and effectively. Our permanent dentures are made of high-quality materials so that they look and function great. We offer both the standard form of implant-supported permanent dentures, as well as implant-supported arches, which allow us to replace your missing teeth in around only 24 hours!
Permanent implant supported dental bridge | In the past, a dental bridge had to be supported by two carefully reshaped teeth on either side of it. Thankfully, by using dental implants we can secure the dental bridge in place, providing a more permanent and satisfying dental bridge solution. Our dental bridges are made to look and feel natural, so no one ever has to know you used to have a gap!
Whether you are looking for a better denture solution or need a more permanent form of dental bridge, our team is ready to help. We can perform every step of the implant dentistry procedure right here in our office. Have more questions for us about dentures, denture implants, or dental bridges? Get in touch with our Fresno dentist team today if you are in the area, including Clovis and Madera!