Dental Implants – The Best Option In Fresno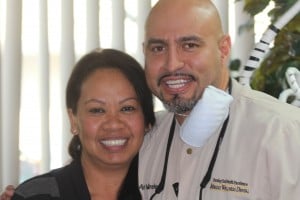 Curious what kind of benefits teeth implants can have for you? We've got you covered! Teeth implants have some great benefits including:
Comfort | Tooth replacement solutions of the past were often unwieldy; after all, if your false teeth or dental bridge keeps popping out, you're never going to be as comfortable as you'd like! Dental implant technology can provide a more permanent and comfortable result.
Appearance | Our dental implant-supported devices are all designed to look and feel great. We carefully examine each and every patient to ensure that the treatments we provide blend in naturally with existing teeth.
If you are considering Dr. Mirelez's implant dentistry, I would say, "do it, he is very good!" Dr. Mirelez is the best dentist I have ever gone to and I had a gone to a lot of them.

Barbara Vaughn, Retired, Pinedale
Strength | Dental implant-supported devices are stronger than devices of the past, and for good reason – they're permanently anchored to your jawbone! This means that these devices can stand up to the punishment of eating the foods you love, all while enhancing the beauty of your smile. Teeth implants also provide additional strength to the jawbone itself, helping to prevent bone deterioration and keeping your mouth healthy.
Health | Dental implant technology can improve your long-term oral health. By providing permanent tooth replacement solutions and strengthening your jawbone, teeth implants help you keep your oral health on track.
We'll show you how to achieve the feel and look you've always dreamed about. You'll see how to make the most of a valuable asset—your smile—while ensuring your teeth are healthy and strong.
The Benefits of Teeth Implants from Dr. Mirelez
Dr. Mirelez and our Fresno team have the technology, skill, and expertise to perform every step of the dental implant procedure right here in our office. Patients rave about our genuine compassion and gentle care. We will work to build a long-term relationship with you and to help you achieve a lasting, beautiful smile.
This marvelous technology has changed the lives of thousands and has brought back smiles to those who thought they would never smile again. Have more questions for us about dental implants? Call us today if you are in the Fresno area, including Madera and Clovis!
For more information about our practice and the great services offered by Dr. Mirelez, please visit our main Fresno dentist website.